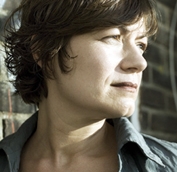 Tijdens en na haar studie aan de Vakschool Edelsmeden in
Amsterdam heeft Petra met verschillende disciplines in de kunst-
en mode wereld gewerkt. De ervaring die ze in deze disciplines
heeft opgedaan, heeft geleid tot het ontstaan van de organische
vormen in haar huidige ontwerpen. Haar unieke manier van
het Inpakken loopt als een rode draad door haar werk.
De inpakkingen zijn versieringen als ook een technisch noodzaak.
Door te experimenteren met de verbindingen ondergaat de
vormgeving een evolutie, van waaruit nieuwe ontwerpen ontstaan
die kracht en positiviteit uitstralen.
Goud, zilver en koper zijn enkele materialen die gebruikt worden
naast elementen van porselein, parels, glas, giethars, korund -, en edelstenen.

Petra heeft haar eigen bedrijf sinds 1998 en sindsdien
vekoopt ze haar werk aan galeries en boutiques vanuit
haar studio in Amsterdam.
IN ENGLISH
Petra studied at the goldsmith's college in Amsterdam and during her studies also worked with many different disciplines in the worlds of Art and Fashion. This experience led her to produce the organic creations you see today in her extraordinary work. Through the precious stone-in-wrapping's that she creates, the designs have each got their own form and personality.
She experiments broadly with links which hold the individual pieces together which in turn give their own special meaning to the evolution of the finished product and through this give the pieces their own special power and positivism.
She uses a widely-ranging choice of materials including gold, titanium, silver, copper, rubber, pearls, resin, beads and precious stones.
Petra lives and works in Amsterdam.